Message from President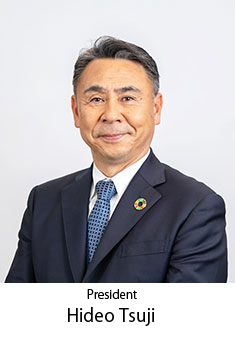 We will bring joy to our customers with safe and reliable food products.
Warabeya Nichiyo Group produces ready-to-eat meals for convenience stores, including bento meal boxes, onigiri rice balls, and side dishes.
Food is essential to and, indeed, source of our health. This is why we continue to work in so many ways to maintain high standards of taste, safety, and reliability in our products.
We have created a business model based on our "Three Core Functions (Product Development, Production Technology, and Quality/Hygiene Control)" and an integrated system that manages our food products from beginning to end. The entire sequence of processes from procurement of ingredients to production and delivery is conducted throughout the Group. We also pursue strict policies of quality and hygiene control, in order to contribute to rich and healthy eating habits through safe, reliable, and valuable products and services.
We will contribute to the healthy and enjoyable eating habits of our customers
by providing a sense of safety and peace of mind in
addition to valuable products and services.
We will pursue the highest level of customer satisfaction and
promote innovation.
We will strive to be a company that society can trust, by
committing to compliance standards and conducting our
business in a highly transparent manner.
We will strive to be an eco-friendly company at which our
employees can obtain personal growth and job satisfaction.